Pornwikileaks aka the realpornwikileaks is a database of information about adult industry performers authored by a network of cyberstalkers connected to xxpt and the Free Speech Coalition. Is the information that these hackers illegally obtained being used to blackmail public figures? Somehow xxpt moderator Sean Tompkins managed to present himself as a whistleblower dedicated to taking down the original porn wikileaks in order to "heroically" protect adult performers' privacy. In reality Tompkins was one of the primary authors behind pornwikileaks, and he used his accomplice, convicted felon Kayden Kross, to provide the following cover story, which was picked up by Adult Video News and widely disseminated. Here is some background information on the story from Vice, who is getting the story wrong by framing Donny Long as the primary author of the website:
Porn Wikileaks, which quietly launched in December 2010, isn't some kind of benevolent database of information on porn stars, with the hope of making the industry more transparent. It's a wiki mainly devoted to naming and shaming porn stars at high risk of HIV and AIDS, and it's supposedly sitting on a cache of thousands of STD test results from the Adult Medical Healthcare Foundation.
As if this weren't disturbing enough, it appears the main reason for the site's existence is an intense hatred toward homosexuals, who it claims are ruining the industry. One of the site's main categories, "high risk HIV", contains a list of performers that have connections to the gay porn industry. Or, as the site explains, One of the site's main categories, "high risk HIV", contains a list of performers that have connections to the gay porn industry. Or, as the site explains, To get put in this section you are either gay or you fuck fags. The gay adult industry is not tested and is mostly HIV "known positives". The straight adult industry uses testing and you are endangering the living of others in straight.
It turns out that this may have been the primary reason for the site's inception. At the Daily Beast, the wiki's anonymous creator recently explained his reasons for building the site: "To get the gays out of straight porn and illegal gay pimps that have ruined porn and shut it down making condoms mandatory by the government now. The fag loving has got to stop. California is full of gay Mexicans and now they can even marry which is so wrong." Gays aren't the sites only targets. In general, the website reads more like the bizarre and offensive internet wiki Encyclopedia Dramatica rather than the more authoritative Wikileaks. Women in the business are targeted as well, and all actresses are referred to as "pornographic whores" and "hookers".
Among the site's targets are Isis Taylor (NSFW link), whose ethnicity is referred to as "Jew/Wigger", while her cause of death is listed as "when her black crack head husband beats her to death." Monica Foster's entry is similarly unsettling, and refers to her ethnicity as "N*gger". The vitriol spills over into site's forums as well, with anti-semitic threads like "jews in porn", with users claiming some kind of Jewish conspiracy with their enemies "the gay mafia". Yeesh.
A number of industry-related blogs have pointed fingers at washed-up porn star Donny Long, who is known for long-winded homophobic rants about gays in porn. It appears he has made several enemies in the industry, and the number one Google result for "donny long" brings up donnylongisaconvictedfelon.com, which includes documents that appear to show prior convictions for everything from battering to burglary.
Big Gay Silence
In a blog post Donny denies any link to Porn Wikileaks, but says they are doing the right thing by targeting gays. He argues that since many male porn actors have performed in both gay and straight films, gays have brought HIV into straight porn, thus "ruining" it by adding a raft of health concerns to the industry and putting pressure on lawmakers to require that performers wear condoms, which are often poo-pooed by connoisseurs and actors alike.
http://motherboard.vice.com/blog/the-disturbing-homophobic-motives-behind-porn-wikileaks
Here is the quite possibly fraudulent article in question which was written by Free Speech Coalition member, convicted felon and Sean Tompkins associate, Kayden Kross. Ironically, she actually does a great job of explaining why what her friends at the real porn wikileaks are doing is wrong:
Donny Long, legal name Donald Carlos Seoane, became active in the adult industry in 2005 as a male performer. It wasn't long before he'd started conflicts with not one but two of the industry's most powerful agents, among others. The conflicts escalated to the point that Long developed a website with the specific intent of harassing one of his adversaries online. The original URL was DerekAndrewHay.com, named after the LA Direct Models owner, but eventually grew into a forum dedicated to harassing more than just its namesake. Long created his final and most vicious site in December 2010—PornWikiLeaks.com.
PornWikiLeaks.com—or PWL, as it soon became known—was dedicated to creating and maintaining defamatory wiki pages on all performers and industry insiders with whom Long felt he'd had a run-in … and some he hadn't. Among the victims were Monica Foster, Mercedes Ashley, Nina Mercedez, Derek Hay, Mark Spiegler, and a host of other people whose numbers totaled entries in the thousands. The chat boards attracted the most vicious commenters, who felt free to act out under the cloak of anonymity that the Internet provides. Performers were referred to as whores and hookers, and men were accused of being closet homosexuals as if it were an offense on the level of child molestation—which was another accusation thrown around. Others were attacked based on their heritage or race. Of course the industry reacted again. This time Long responded with a rant threatening to expose the most personal information of all performers if he was not apologized to. He was ignored.
Long's response was to illegally gain access to the database of AIM Healthcare Foundation, a non-profit organization responsible for collecting samples and maintaining records of all STD testing in the adult industry. Those records are made available with the performers' permission to producers and directors who hire them for work. Performers are required to test once every 30 days. The AIM clinic also caters to walk-in clientele who are interested in low-cost testing for their own purposes. Somewhere in the neighborhood of 15,000 names were included in the data dump that Long posted to PWL along with the performers' names, if listed, driver's license and social security numbers, or any other personal information that had been stored. The exact way that Long acquired this information is not yet known and remains under federal investigation.
When the data dump was posted on PWL, other industry gossip sites lit up with the news. Many who were aware of Long and his retaliatory nature chose to ignore it or sought legal representation. Some tried to reason with Long and sent private emails asking that he remove their n
ames. Those people became targets. Mercedes Ashley was one of many performers who was unaware that any of this had been going on until someone sent a tweet alerting her to the fact that her medical information—specifically concerning STD records—was available online to anyone who cared to look. Ashley went in swinging. She has two children and had already retired from the industry and put it behind her after a very short career that only involved a few movies.
Rather than respect her wishes, and her rights under HIPPA, the moderators at PWL took her fight to the chat boards and made it public. Other commenters jumped in with vicious attacks on her. Again, she fought back, now on this public forum. They doubled their attacks....News of the data leak broke into the mainstream media and drew more attention to the site. For many performers, their wikis on PornWikiLeaks.com became a top Google entry under their legal names, along with others who had tested at AIM but never actually been involved in the adult industry. There are numerous accounts of people having to explain to their friends and families what was going on, children being harassed at school because of what was said of their parents on the Internet, and jobs being jeopardized.
There are at least two confirmed cases of retired performers losing their jobs over the postings on PWL. There is one confirmed case of a teenager who has been placed in therapy as a direct result of the postings made about his mother and the subsequent harassment he received at school. One retired performer committed suicide the day after she requested that PWL remove her information, although it has not been confirmed or denied whether PWL was the catalyst. As the number of affected parties increased, the traffic soared. New commenters who stumbled across the site joined in on the attacks. PWL's strength grew....
As PWL's assault spiraled out of control, a loose network of vigilantes around the world began to step up. Mike South, AVN Award winning director and adult industry blogger on MikeSouth.com, turned his website into a platform dedicated almost exclusively to the transfer of information between parties who had the common goal of defeating PWL. Those who joined the fight knew that they would be dragged into the wiki entries and cyber attacks along with the performers, but, as Mike said, "I didn't have any secrets, my family knows what I do. I'm not ashamed. No one else was stepping up for these girls. If it were your everyday chick working in an office somewhere, something may have been done. But these were porn girls. No one felt like they deserved any protection. That's simply untrue and ignorant. No one deserves to be treated like that."
At first, Tompkins thought he could be the voice of reason that helped other posters realize they needed to back off, but when he suggested it, he too was attacked. After four days of fruitless attempts, he took a more aggressive approach. By then it was May. PWL had been actively harassing people for six months and had attracted a wide audience of gawkers and anonymous posters who felt safe to cross any and all lines they saw fit under the cloak of invisibility. Mercedes Ashley remembers cycles of breaking down in tears and then coming back out again swinging, always with a doubled effort. Monica Foster felt her life had become consumed by it. Mike South summed it up perfectly: "For these people commenting, it's just something they do online, then they walk away from their computer screens and live their lives and forget about it. For the victims, there was no walking away."
Tompkins, along with the assistance of a couple of unnamed Internet-savvy friends, began to gather the information they would need to take down not just Long, but all of the moderators and posters actively participating on PWL. They did the same thing to Long that he'd done to his victims—found addresses and pictures of his family, his dog, his personal information. They toyed with Long and he responded by posting pictures of Tompkins' two children, complete with the customary racist rants. Then Tompkins and his team made a major breakthrough and gained access to the personal information of the posters and administrators. They would no longer be anonymous. Long was given the option to take down the defamatory links and comments by 5 p.m. in exchange for Tompkins' backing off.
Instead, Long chose to stop responding to DMCA notices ordering him to take down content he'd pirated for the purpose of harassing featured performers and increased his own efforts. Long wasn't ready to back down. He kept up the harassment on his own while Whiteacre and South used the newly acquired domain information to find the person responsible for funding the site and Tompkins used his talents against Long and the administrators. Ten days before PWL went down for good, Tompkins sent Long an email. It told him that he had ten days left. The next day Long received another email, this time stating that he had nine days. This went on until the last day of the countdown, when Tompkins dropped his final bomb: He named the man responsible for providing the funding to keep PWL going—Michael Tierney, commonly known in the adult industry as performer Joe Blow.
He also named every single person who had participated in victimizing other performers. He had access to every single piece of private information surrounding PWL that Long and Tierney had ever had. 41 minutes later the site was taken down. PWL has been offline for close to two weeks now. More apologies are coming through as well as thank you letters from people across the adult industry. The legal investigation into Long's crimes continues but the harassment of his victims has stopped.
Says Mercedes Ashley, "I feel awesome, amazing. I can enjoy my retirement. ...Foster is more reserved. She worries about the cached pages on Google that still reflect the terror that PWL inflicted on her. She is in the process of moving and picking up the pieces. The last thing she had to say was, "It's not over yet. A lot of people think that it will fade away and we're not all that upset anymore. I will seek legal recourse because it really affected my life." Either way, the fight against PornWikiLeaks.com has shown that the Internet has not destroyed accountability and has not created anonymity. While PWL was not original in its construction of a forum designed to criticize performers, it was by far the worst of its kind. Many are still assessing the damages and doling out the lawsuits. The authorities remain involved in investigations on both state and federal levels.
http://business.avn.com/articles/technology/Kayden-Kross-on-the-Rise-and-Fall-of-PornWikileaks-442406.html
Kayden Kross: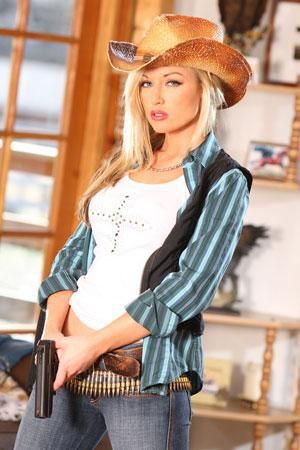 Kayden, 4th from right standing with Free Speech Coalition Board Member Diane Duke on far right: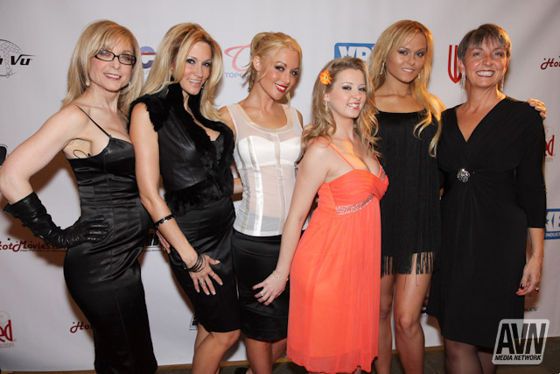 Raw Story editor Ron Brynaert provides further commentary on how, contrary to the information provided in Kayden Kross's attempt to provide an alibi above, Sean Tompkins continues to utilize the real pornwikileaks website to stalk and terrorize former and current porn stars as well as porn industry critics:
http://ronbryn.blogspot.com/2011/11/breitbart-gang-teams-up-with-real-porn.html
Stack is friends with Sean Tompkins and Michael Whitacre, two porn enthusiasts who are connected to a site called
www.therealpornwikileaks.com
. Even though the two have left a long trail of menacing and harassing women on the Internet, they pretend to be good guys who are against stalkers and releasing private information on people connected to the adult film industry. But they use fake accounts on twitter and delete their tweets and get away with menacing women because no one seems to care about harassment of porn actresses and many seem to think it comes with the territory.
(Editor's note: Whitacre and Tompkins leave many comments at the LukeIsBack blog condemning mostly women who want to reform the porn industry, here's one sample, but I'll be showcasing many more in the future:
redgoat Says:
Darrah, you are a worthless cunt.
Don't worry about who I am talking to and what I am doing, just like you say to me.
So, to make a blanket statement saying that I would be blamed if something happened to you is reckless. Frankly, I hope you get hit by a car in Malden driven by an ex-porn star.
….The real world is Freedom Of Speech and this right I will continue to apply to my hatred of you....Dry up and drop off of the face of this earth.
http://www.lukeisback.com/?p=13036#comment-44018
Monica Foster writes: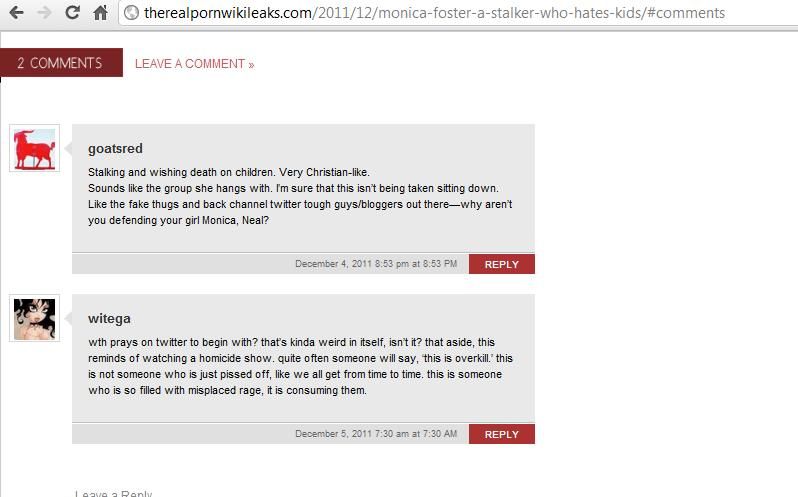 We are in mid-October and the Pornwikileaks incident STILL has not received LEGAL closure - that's a fact. Individual parties (both attached and UNATTACHED to the porn industry) who were gang stalked, cyber bullied, harassed, slandered and terrorized both on and offline still would like some legal closure on the issue - yet Sean Tompkins (who could expedite the legal closure process) continues to refuse to furnish the database which would identify exactly who created the "wikis" from the Pornwikileaks site to the public (or at least to the individual parties seeking legal resolution).
Sean Tompkins is intentionally obstructing justice in the name of personal and professional gain. Regardless of how you want to look at the situation - it is wrong. He has gone as far as to continue utilizing the EXACT SAME stalking and slandering tactics and patterns with his site TheRealPornWikiLeaks as the initial PornWikiLeaks site did.
/Screenshotfrom2014-01-23211329_zpsd187a53a.png
more threats to Monica: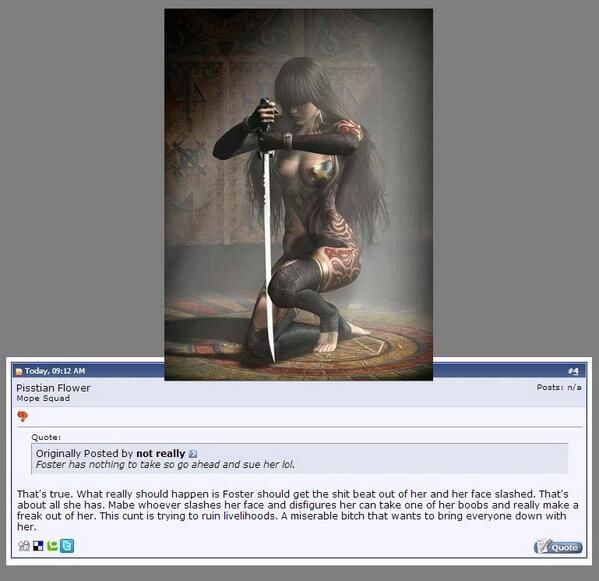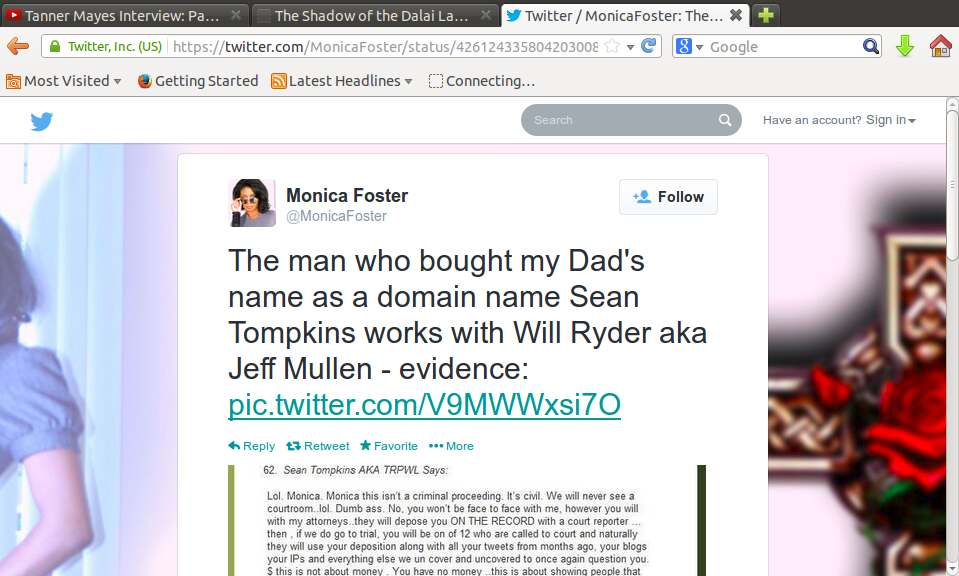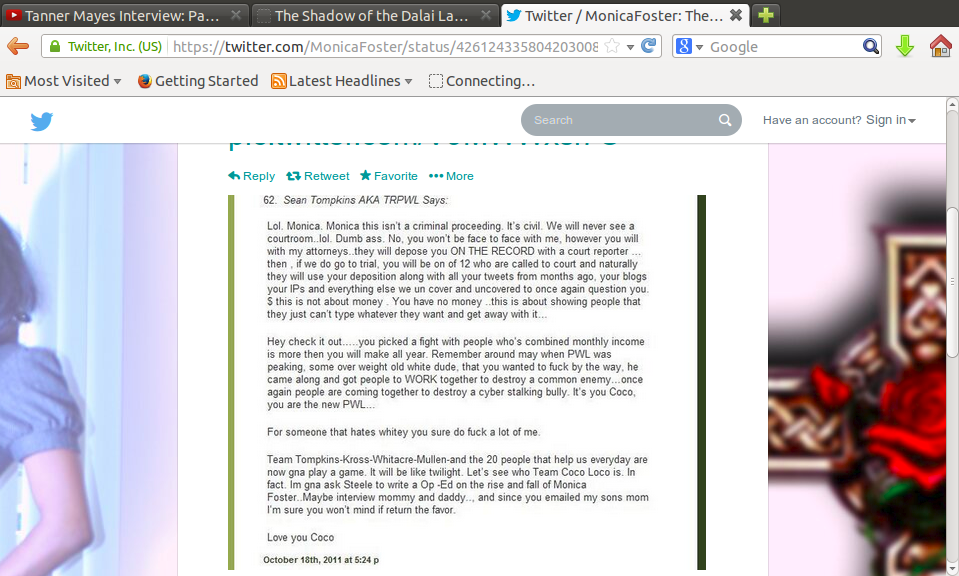 I am still a PRIMARY TARGET being that I've been verbal about the initial PornWikiLeaks site lacking a legal conclusion, and now others attached to adult entertainment have become targets and have suffered slander and harassment as well (porn director Nica Noelle, anti-porn activist Shelley Lubben, anti-porn and HIV awareness speaker Derrick Burts, etc). ...I'm very disappointed in Kayden Kross's and possibly Digital Playground's (they have ads plastered all over Sean Tompkin's website) support of Sean Tompkins and his acquaintance Michael Whiteacre's regular on and offline harassment, gang stalking and terrorism of individuals they feel the need to target and victimize - however considering that Kayden Kross is a convicted felon for real estate fraud with a criminal history I can't say I'm surprised (you know the saying "Birds of a feather flock together").
Kayden Kross's essay is fraudulent, and I have to question if she was paid to assist in the cover up of Sean Tompkin's efforts to convert the initial PornWikiLeaks project and traffic over to the new TheRealPornWikiLeaks site.
Both sites utilize the EXACT same framework
Being that Kayden Kross in my view is assisting possible conspiracy, criminal behavior and fraud, I plan on submitting a letter in regards to the situation to the Superior Court of California to alert the court of the situation. Kayden Kross has been on probation since July of 2009 for real estate fraud (which ironically she claims to be the "victim" of), and though I may be wrong in my view of her involvement in assisting with another fraudulent situation - all signs point to her knowing vital information which could bring legal closure to pornwikileaks.
• Sean Tompkins disclosed to me via phone that only himself and Kayden Kross would ever know the political motives behind the site (why only Kayden?)
• Kayden Kross was a client of Michael Fattorosi who gave legal advice to the owners of the website .
• Kayden Kross is a member of the FSC (free speech coalition) - an organization which is opposed to Shelley Lubben's efforts, Nica Noelle's efforts to start the Adult Performer's Association and the AHF (Aids HealthCare Foundation - the organization Derrick Burts speaks in support of) .
• Kayden Kross is friends with Michael Whiteacre (who has been gang stalking Shelley Lubben for a while now).
http://pornwikileaks.blogspot.com/2011/10/why-is-kayden-kross-supporting.html
Comments posted at Luke is Back provide further evidence that Sean Tompkins is closely affiliated with xxxporntalk.com:
….In October, Mike Stack had all his posts under the moniker "Redgoat" scrubbed from the XXX Porn Talk forum he moderated at, all that remains is traces from Google...
Sean Tompkins AKA TRPWL Says:
Shelley WTF. You steal, scam, and lie all in the name of god. You have some nerve telling my buddy you pray for him. He's got a better chance at the after life with out your help. I'm pretty sure anyone you pray for automatcily has one strike against them just by their name coming out of your mouth. Everything you touch or come in contact with is fucked. And stop fucking harassing Maddy. You Fuckin scumbag.
Sean Tompkins AKA TRPWL Says:
Please refrain from Brandon bashing on LIB..XPT is the only place were thats allowed..However if you buy a 30 day membership to one of Brandon's sites it also comes with Brandons direct phone number were he will allow you to bash via text…30 days gets you 250 texts or if you buy today he will throw in a extra 100 but you can only use them on nights and weekends...../
http://www.lukeisback.com/2011/11/whiteacre-lambasts-lib-for-promoting-shelley-lubben/
Monica Foster writes:
The night after I recorded the above live webcast, someone attempted to break into my home. I believe whoever it was, was connected to Sean Tompkins and/or Mark Spiegler. As of current Sean Tompkins has over 60 blog posts about me on his The Real Porn Wiki Leaks website. This is in effort to divert traffic searches from the terms "Monica Foster" to his website in effort to corrupt and suppress the truth of the Los Angeles porn industry's foundation of organized crime and PornWikiLeaks (which I believe was an industrial espionage instance utilized by the Free Speech Coalition).
http://pornnewstoday.com/pnt/?p=3636
An excerpt from blogger Darrah Ford on Kayden Kross concerning Kross's father who she allegedly committed financial crimes against:
….I spoke Wednesday afternoon to Kayden Kross' ex. I will refer to him as OBF- old boy friend. OBF gave me some dirt on what's going on with Kross, Adam & Eve's contract girl who's been indicted by the Feds. OBF has also been approached by federal investigators in the real estate fraud case centered in Gold River, California in which Kross is apparently facing four criminal charges. Gold River is a suburb of Sacramento. There are several properties involved in this case.
• Sean Tompkins disclosed to me via phone that only himself and Kayden Kross would ever know the political motives behind the site (why only Kayden?) Kayden Kross is a member of the FSC (free speech coalition)
"I was also contacted by the private investigators for the bank," says OBF....According to OBF one of the charges for which Kross gets arraigned on in October is grand theft.
"The others are for real estate fraud," OBF clarifies. "I imagine there's going to be a bank fraud and tax fraud as well." OBF said he was witness to a lot of this....OBF isn't exactly sure on the details but knows it involved either checks or credit cards belonging to her stepmother on which Kross allegedly ran up some bills. Supposedly Kross told OBF all about it after which her father also confirmed the story to him.
"But that fraud case was consequently expunged," adds OBF who describes Kross as "manipulative" and "calculating".....OBF says his concerns are for the family that lost its ass as well as their house. "You have a man who was disabled in Vietnam with a back injury," points out OBF. The family filed the complaint which began the investigation into Kross' activities.
http://pornstarbabylon.wordpress.com/2008/09/17/kayden-kross-ex-says-she-is-manipulative-and-calculating-warned-her-there-were-going-to-be-ramifications-for-her-doing-this-says-she-was-no-tool-frauded-her-father-too/
Sean Tompkins and Kayden Kross: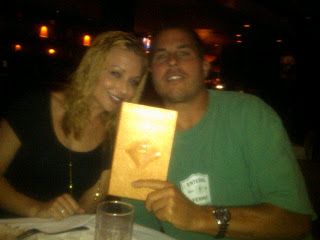 The LA Weekly blog reported that the FSC worked with the FBI to shut down Porn Wikileaks. But then the same article listed Michael Whiteacre as one of the people involved with the FBI probe. This is the same Michael Whiteacre who has been issuing implied death threats to porn industry whistleblower Monica Foster.
http://blogs.laweekly.com/informer/2011/07/porn_wikileaks_fbi_aim.php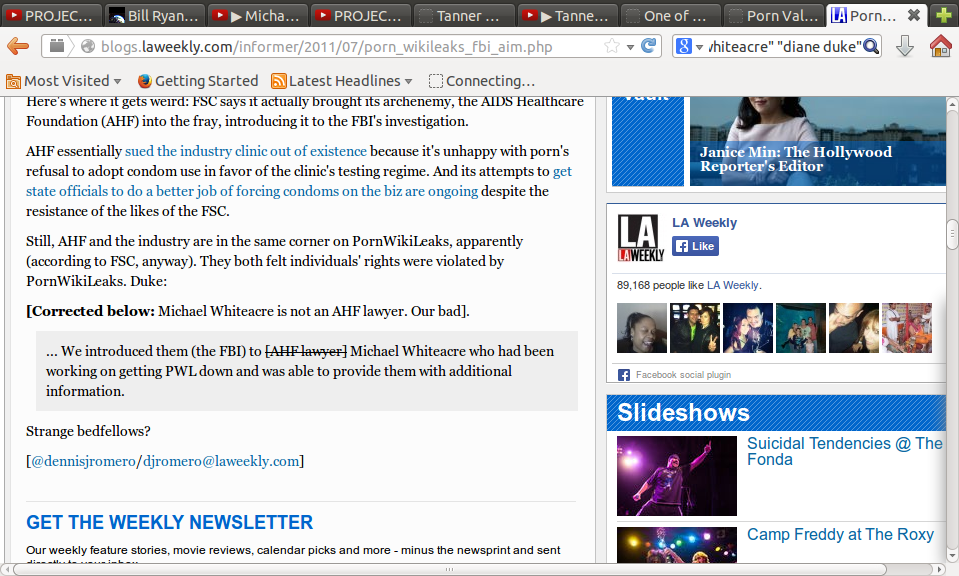 Here are several screen caps of Whiteacre tweeting with libertychick, who was one of the individuals involved with exposing Anthony Weiner, along with xxxpt moderator Mike Stack: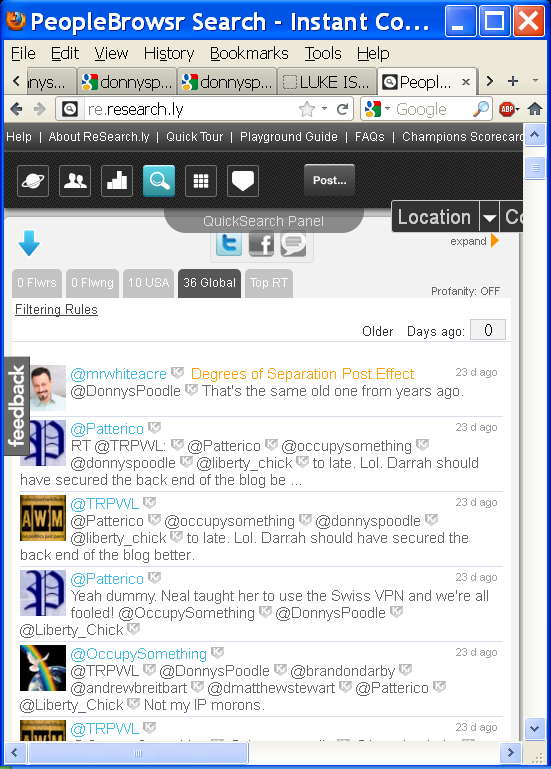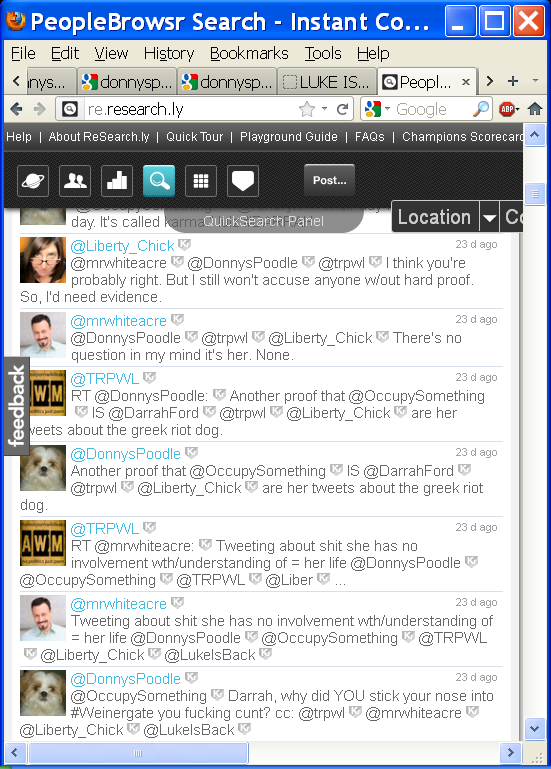 more from Porn in the Valley:
Monica Foster's parents have made it clear that if any physical harm comes to any of their children, they and their support system are holding all individuals attached to Sean Tompkins and his website directly responsible ...It is believed that Sean Tompkins is attempting an organized physical attack against Monica Foster and/or her sister. As of current Sean Tompkins is under investigation in the state of Texas as are those openly attached to him in California and New Jersey. It has been suggested that many of those listed in this article have been living and working under multiple false (illegally obtained) alternate identities.."
http://porninthevalley.com/2012/04/06/porn-valley-promotes-new-stalker-site-site-owner-is-pushing-cyber-stalking-and-bullying-for-a-performer-suicide-to-drive-his-traffick-for-profit/
A Monica Foster commentary:
Apparently Xbiz and the Los Angeles porn industry in general do indeed support the stalking, defamation, terrorizing, harassment, cyberbullying and psychological manipulation designed to drive an individual to suicide - by promoting IsAnyoneUp.com founder Hunter Moore.
Hunter Moore's website is essentially a clone of the PornWikiLeaks project which attacked countless adult entertainment industry associated individuals along with their non-associated family members and friends. I was a primary target and still am being targeted by websites which are offshoots of the project to this day. Hunter Moore is quoted in this article as stating:
"I'm gonna sound like the most evil motherfucker — let's be real for a second: If somebody killed themselves over [being on the site]? Do you know how much money I'd make? At the end of the day, I do not want anybody to hurt themselves. But if they do? Thank you for the money.
"The more traffic I'd have that day, I'm going to get paid for. So if someone fucking killed themselves? Do you know how much hate I'd get? All the Googling, all the redirects, all, like, the press"—here he sounds like he's stifling a yawn; it is morning—"I'd get paid for, for that day. And whatever."
Please take a look at these tweets directed to me by a man who uses the alias Michael Whiteacre – a Los Angeles adult entertainment (porn industry) documentary director, softcore porn director and Free Speech Coalition associate (he has close ties to Free Speech Coalition membership director Joanne Cachapiero, Free Speech Coalition president Diane Duke along with other members such as president of Wicked Pictures Joy King and her self proclaimed best friend Dr. Chauntelle Anne Tibbals).
As of current one of the PornWikiLeaks "offshoot" websites, run by Sean Tompkins, is currently valued according to online website value estimators at an average of approximately $20,000. However upon close investigation the majority of the traffic drawn via this website is generated by posts of which border stalking, defamation, terrorizing, harassment & cyberbullying of specific targets (I being a primary target and traffic draw as seen in the Alexa screen shot below).
Michael Whiteacre has very close ties with the above referenced pornwikileaks offshoot website and appears to be good friends with Sean Tompkins. At this stage, one could easily conclude that his continued stalking, defamation, terrorizing, harassment & cyberbullying of myself and family members which have no attachments to the porn industry (which members of the Free Speech Coalition appear to support) is an effort to drive me (and other targets I'm sure) to suicide to increase the traffic to their websites in effort to increase their value (make money).
This online business model (which appears to generate money via the stalking, defamation, terrorizing, harassment & cyberbullying) I anticipate to begin targeting college and high school students. ...Wicked Pictures and the Free Speech Coalition is making aggressive moves towards establishing speaking engagements masked as "sex education" and "sex workers safety events" on college campuses such as Stanford University (a school which as of current has seen a 75% increase in on campus rapes between 2009 and 2010). I feel that the porn industry's presence on these campuses in actuality is an effort to recruit students into the porn industry and attain their personal information for later use on the revenue attracting type websites I define in this article...
Hunter Moore and his statements illustrate that driving targets to suicide to increase traffic to websites. In the case of the porn industry a target's death would results in increased video sales and website membership sign ups. One has to wonder exactly how much the porn industry profited from the death of pornstar Hunter Bryce. Below is a screen cap of award winning porn director Will Ryder aka Jeff Mullen (who is associated with the Free Speech Coalition FSC & Michael Whiteacre) suggesting that I commit suicide. I was featured in 2 of his movies. Does he want pornstars he's directed to die to increase the value and sales of his porn movies?

In this webcast, Alexandra aka Monica Foster calls for statements from the above mentioned FSC parties as well as for Larry Flynt of Hustler to stop distribution of the movie Not the Cosbys XXX 2 which depicts an instance of child pornography and/or rape - a movie directed by Will Ryder aka Jeff Mullen of All Media Play / X-play.
http://www.youtube.com/watch?v=iaV5YfrmW6Q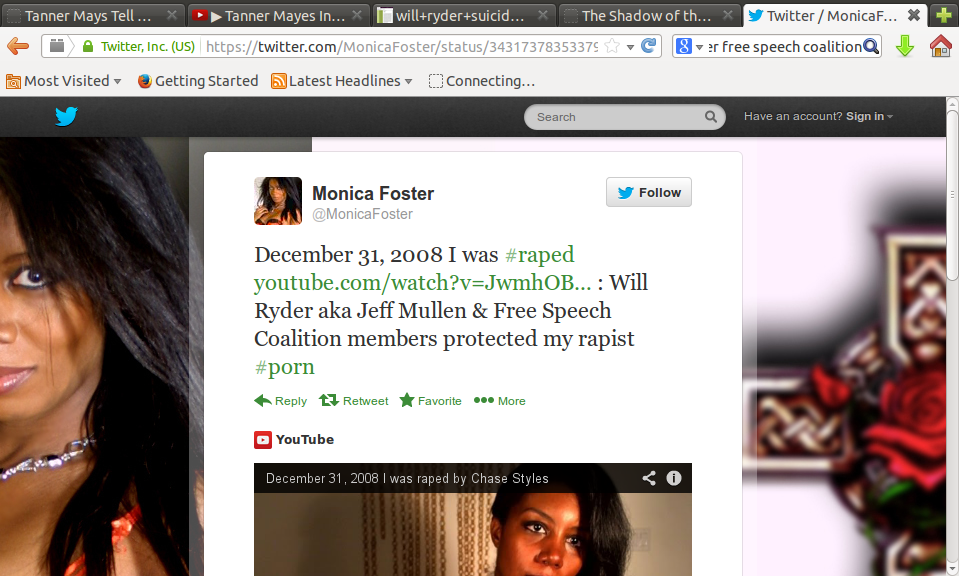 Here's more from Monica: December 31, 2008 I was raped by Chase Styles. It happened at an afterparty. Shortly afterwards I found out I was pregnant and I didn't know whether the pregnancy resulted from the rape or my boyfriend at the time so I opted to abort the pregnancy....Will Ryder aka Jeff Mullen knew about the rape when I told him later. He told me that he would do something about it. I found out a couple years later from pornstar Jeremy Steele that he saw Chase Styles out having dinner with Will Ryder. I do feel that Will Ryder aka Jeff Mullen thinks raping women is OK and has no problem with what Chase Styles did to me (especially considering how Will Ryder has publicly stated that he wished I would have committed suicide)....
http://pornstarhookeralert.com/psha/?p=1932
Chase Styles is still actively working in porn according to Dave Pounder. In addition Will Ryder's associate Sean Tompkins is posting lies online stating the rape I endured never happened.
http://pornstarhookeralert.com/psha/?p=1932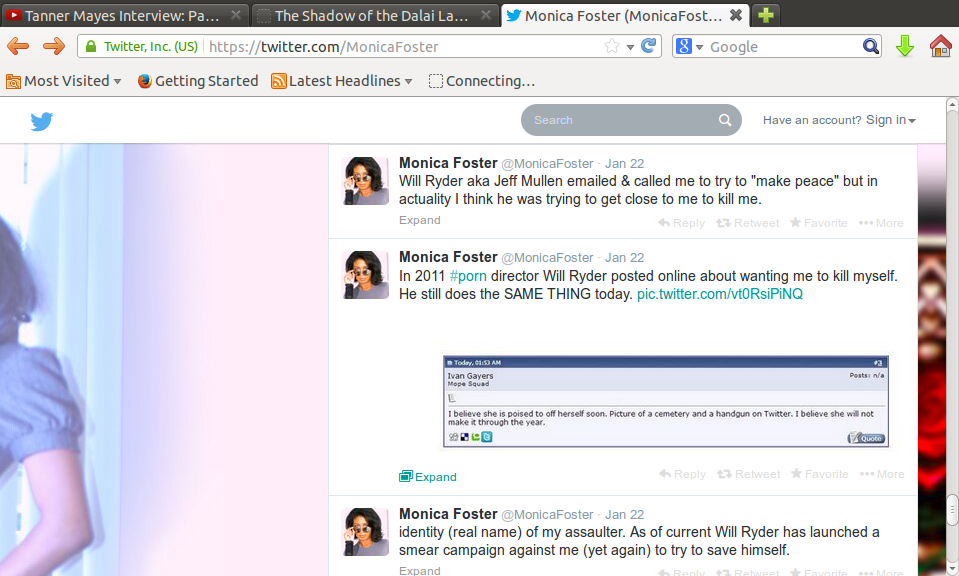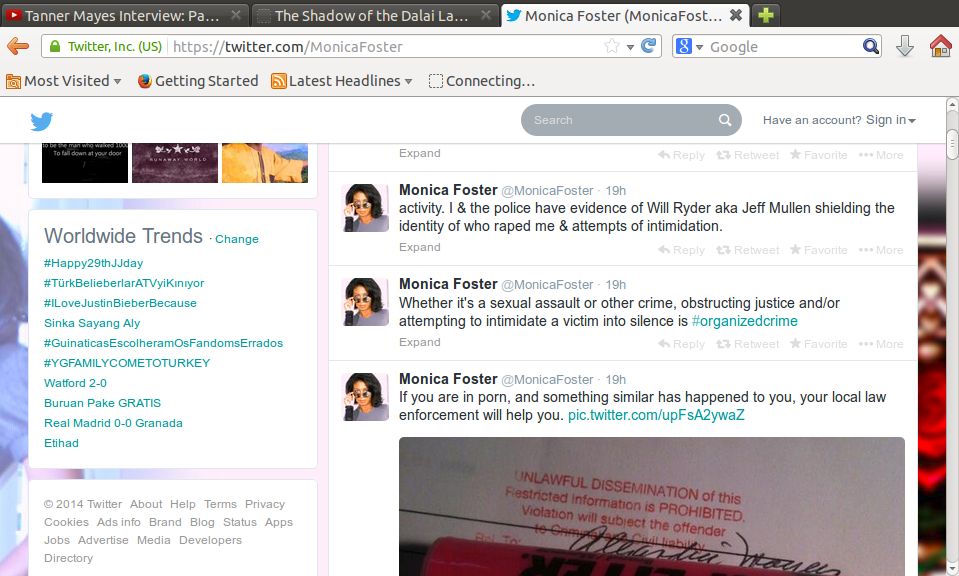 According to Ari Bass's twitter feed and that ofcollege student, sex worker activist and webcam model Gabriela Stone aka Christina Page – Ari Bass allegedly physically assaulted Gabriela, threatened the life of herself and family, lifted private content from her cellphone and stole her rental car....In addition, Ari Bass implicated author, blogger, speaker and professor of ***** and ****** at ******** City College ********** as being involved with Gabriela via "sexting" and alluded to a scheme to extort and ruin the career of ****** (a scheme of which the Porn News Today team believes Ari Bass most likely developed)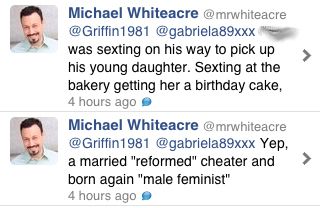 ....Gabriela tweeted that she has spoken to law enforcement, filed a report and appears to currently be safely away from Ari Bass, however Ari's history of obsession and extreme aggression towards his targets suggests this situation has not reached a conclusion yet (Ari Bass has been known to habitually harasses and defame anti-porn activist Shelley Lubben, blogger Diana Grandmaison, investigative Blogger Crystal Cox, blogger and webcam model Monica Fosterand as of recent PHD student Jennifer J Reed)....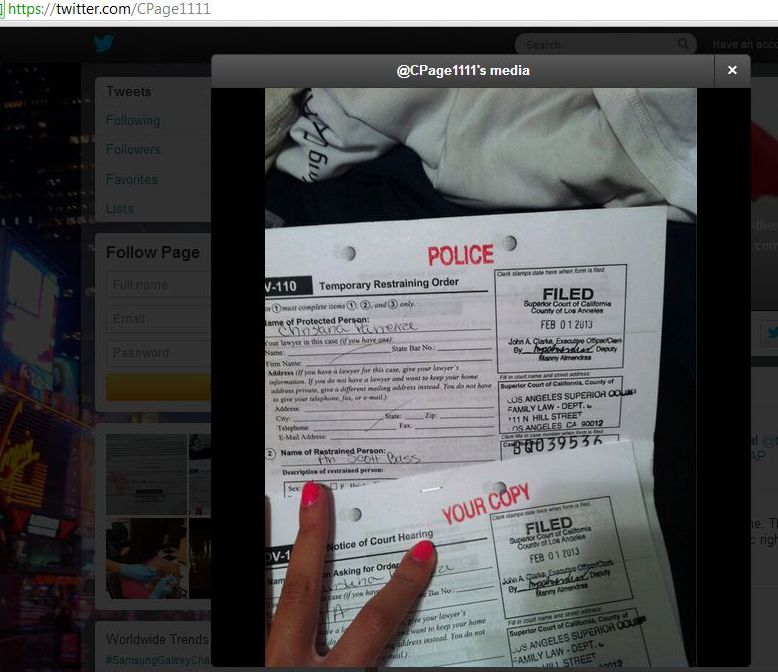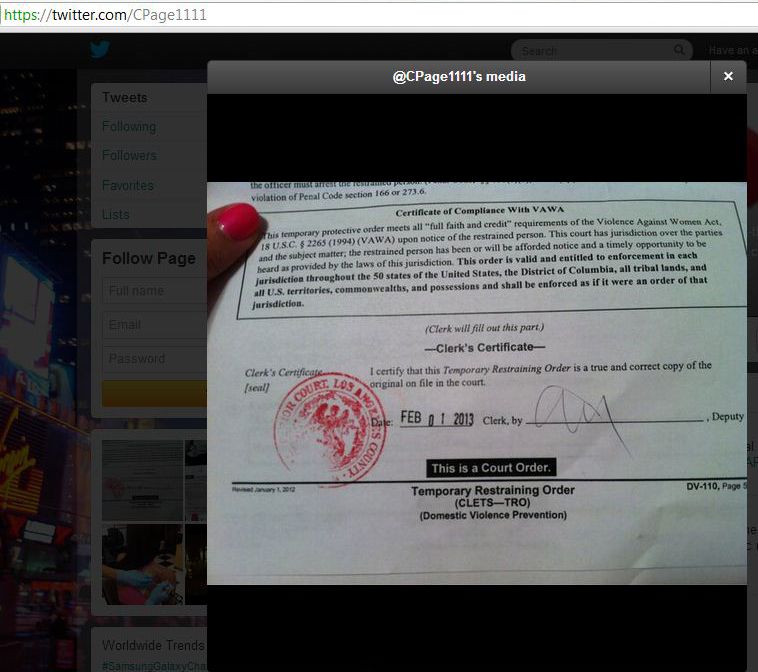 www.aribass.com/2013/02/las-vegas-ari-bass-aka-michael.html
PORN VALLEY: Stalkers Hit Corporate Email Account – Violates Privacy of How Many??
http://porninthevalley.com/2012/01/23/230/
As of January 11, 2012, Sean Tompkins has publicly posted what appears to be several private and confidential emails dating from the present back to prior January 24th, 2011 from the AHF (Aids Healthcare Foundation) email system (network) on his website TheRealPornWikiLeaks . Ari Bass aka Michael Whiteacre has promoted these postings via his twitter account which leads many to believe he may have been instrumental in attaining the emails. This is yet more evidence that those behind TheRealPornWikilLeaks have utilized that same industrial espionage tactics of the initial PornWikiLeaks website. One has to question, how many people's email systems and networks Sean Tompkins and his associates have illegally compromised.
http://pornwikileaks.blogspot.com/
photo of Whiteacre, center left, with FSC Board Member Christian Mann in blue shirt on his right: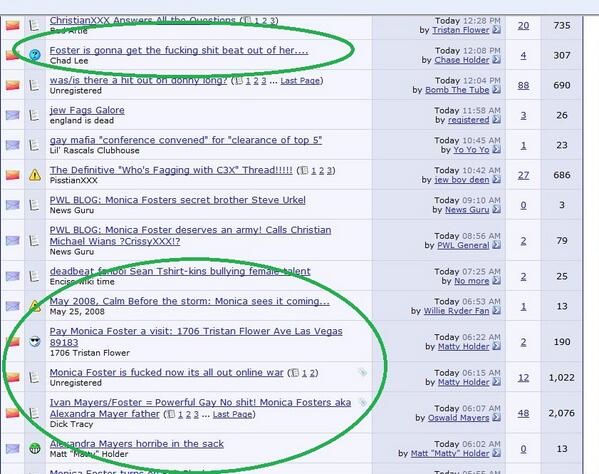 Sean Tompkins identifies himself as a trpwl author on xxxpt: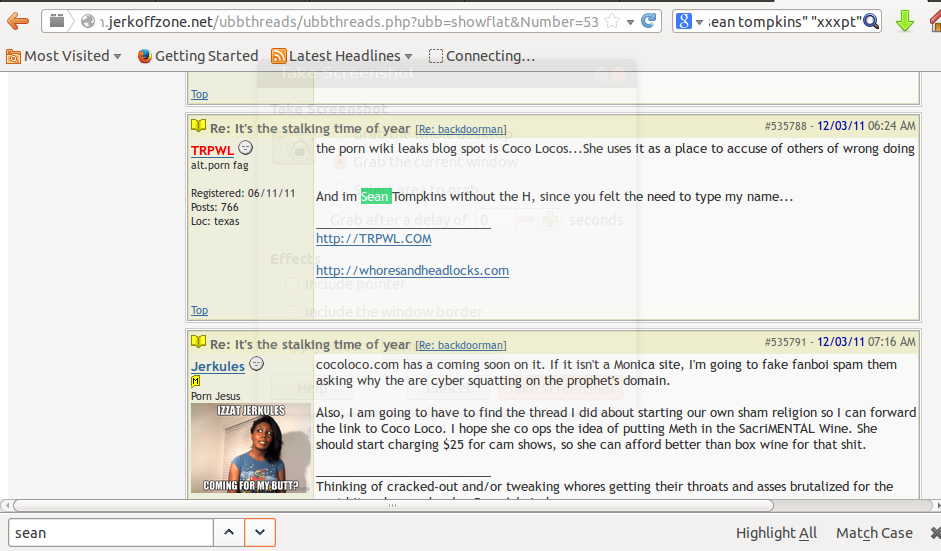 screen cap of Sean Tompkins identifying himself as an associate of Kayden Kross, Michael Whiteacre and Jeff Mullen: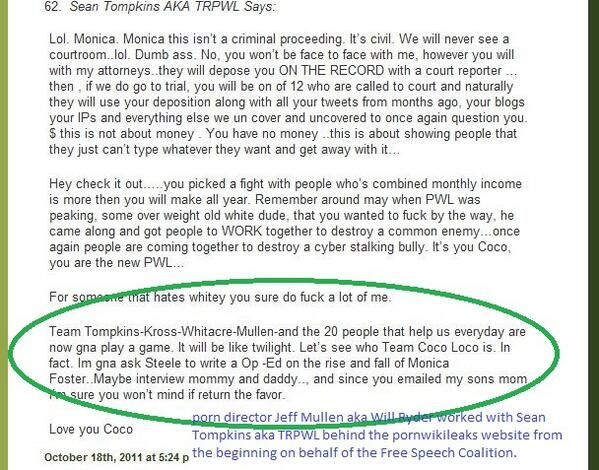 Here's the implied death threat Michael Whiteacre aka Ari Bass sent to Monica Foster again:
Whiteacre is prominenetly placed on the Free Speech Coalition Youtube page, proving he is closely affiliated with the group: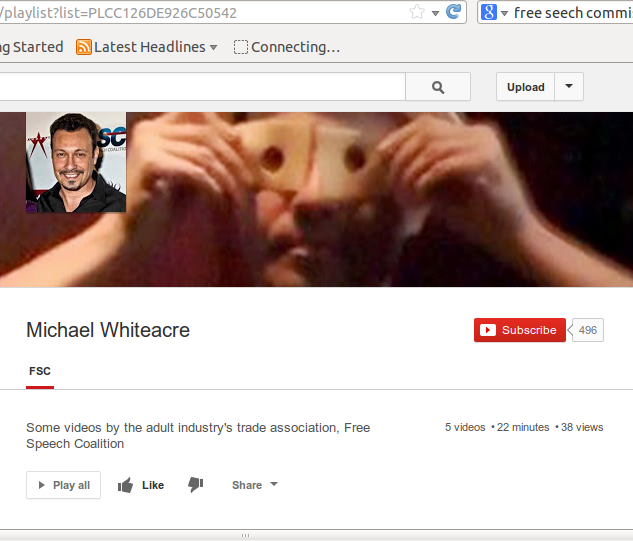 description of a Monica Foster Youtube video:
Monica Foster relates at the start of the webcast how Donny Long essentially revolutionized the Los Angeles porn industry by launching his website xxxfilmjobs - a website of which many of his competitors may have wanted to control of destroy. Monica outlines how the Free Speech Coalition (FSC) may have "set up" Donny Long as the "fall guy" for PornWikiLeaks due to Pornwikileaks leading to the closure of AIM, which led to the formation of the APHSS which is controlled by the FSC who in turn has been primarily funded by Manwin.
http://www.youtube.com/watch?v=kLE55s1jRKk
Here is a screen cap of Sean Tompkins' phone number along with a conversation where he admits to purchasing the pornwikileaks domain: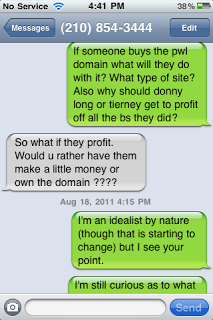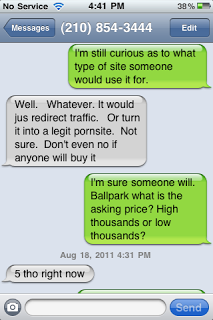 more on Michael Whiteacre via
Mike South
:
Not too long ago, I received a website link from a friend. They said I would be very interested in where the link went. My friend's surreptitious tone of voice left little question of where the link would take me.
"I'll just send you the link – you won't believe it." My friend was well-meaning, not really trying to create drama. I watched the email pop into the slot onscreen. I didn't delete it.
After I got off the phone, something irresistible and wrong tugged at my gut. It felt stalker-ish. I thought about it for a little while, got up from my desk. Finally, it got the better of me. With utter disregard for good judgement, I opened my email, found the link, held my breath and clicked it.
I didn't know what to expect and it wasn't anything that I recognized at first.
The page was laid out like a simple blog; no photos, though there was space for one, everything was shades of pink except for the grey text. Then I realized it was some sort of sign-up page. The URL was for a crowd-funding site; I was looking at a page someone had put up to raise money. Reading the page info, the name of the author was in big letters. It was a girl that I didn't know, really. I only knew of her, primarily from her activity online.
The pink page was divided up so there was a big space to write a "pitch" to would-be donors. All of this area had been taken up with a long description – a pitiful tale of woe.
She didn't waste much time getting to the point. She was trying to raise $10,000 for a war chest to sue her ex-boyfriend because he had physically, verbally and emotionally abused her.
At first, he had seemed like a scholar and a perfect gentleman, but before too long his true personality surfaced. He was deceptive, mean and manipulative. She described an incident where he had physically attacked her in a restaurant, pulling her hair in front of witnesses. He had cursed her, called her names and humiliated her by making jokes about her body. Though they had dated only a few months, his abuse had caused her to "go to a bad place." He'd exploited her indiscretions by taking incriminating photos of her and then posting them online. He was still attempting to disrupt her at work, she alleged. He was vindictive and controlling. She had restraining orders against him in two cities. The evil fucker had threatened to kill her dog!
She wasn't proud of herself or the way she acted, or that she had allowed the abuse to continue for those weeks. She had been terribly damaged, requiring therapy. Of course, the important thing was that she was safe now. Despite the continued harassment, she was getting better every day.
$10,000 could rectify the situation. $10,000 would drive this predatory maniac out of her life. There would be justice. She had documentation and she was gonna wipe her ass with him. Because someone's got to stand up to horrible men like him. Her background was in psychology; she surmised he was a textbook narcissist and sociopath. And though she had been brutally victimized, it was time for her to rise up with the help of friends and the kindness of strangers. She would be a beacon of light to other abused women, taking him by the balls and dragging him through a court trial where the judge would surely see how she'd been so mistreated.
A row of boxes on the left side of the page listed donors' names. Some were anonymous contributions. Some had a note next to the amount donated. One person wrote they hoped she would "get the bastard." Another consoled her for what she had been through. Even a relative of hers donated, saying they regretted the day this monster had been welcomed into their home; that statement seemed to lend some credibility to the whole story. Nearly $1,500 had been collected, which was pretty good, considering the page had been up little more than a day and a half.
My eyes roamed the page looking for more details, dates. I was very suspicious.
Because I thought it was all true. In fact, over a period of time there had been several other dramatic incidents with him, documented by her, in sordid detail, online.
Because I thought – if it had been me in her shoes – I would have been too intimidated to take such a bold and public action. She'd mentioned his real name. She was sure to be targeted for retribution once news of the page got out. It wouldn't be long before he knew.
Because he hated to be exposed in public or for anyone to challenge his carefully put-together image. Unless he was being provided for, he had little use for women, much less a woman that was causing problems. He had a nasty temper that could ignite like a blow torch. You never knew what might set him off; it might be a your grammar or the way you'd parked the car. He would threaten violence with the braggadocio of a puffed-up movie mobster, like Scarface, and it would seem so ridiculous. But then you had to be careful around him in small spaces. He was tricky and fast. It made him angry to deal with people of lower intelligence. If he was on the down side of a binge he would be irritable and paranoid. And something about restaurants would set off confrontations – lips pulled back in anger, he'd unleash a barrage of insults meant to force you into submission. He'd threaten, a fine spray of spittle flying in the space between you as he leaned forward, his words hushed but very precise. He might throw a menu on the table with a loud slap, or pick up a drink and move as if he would dump it over your head. People might turn their heads to see what was going on. If there was a mirror close by, his gaze might shift sideways, hoping to catch a glimpse of himself, how dangerous he must look. Soon, your only alternatives would be to get up and leave, or sit there and take it, tears welling up, wishing the padded red leather of the booth would open up and swallow you.
I closed the window, but saved the link. She only had 5 1/2 days left to reach her goal.
PART II
The next day, the page had lost a lot of momentum. The lag time between donations had stretched to more than ten hours. It made you wonder how many other requests were posted at the website and if they were sorted by categories. Do anonymous online benefactors cruise the crowd-funding sites, looking for a sob story that tugs at their heartstrings hard enough to make them give money to a stranger? People with money to burn? I wondered.
The day after that, I logged on and saw immediately that it was different. The page was still pink, but things had been rearranged. The amount of funds collected was just under $2,000. Had the page been suspended by the website operators because of potential fraud or some other policy violation? It took me a moment to figure out the page was no longer enabled to take donations.
A short note replaced the original plea for help. It was the girl again, but now with a different story. She thanked the donors with all her heart, going on to explain that the "situation" had been resolved "peacefully." Legal action was no longer required. Donated funds would be distributed to two charities she had named in the original plea, as well as a portion that would go to fund some "self-care" after her long, traumatic ordeal. The donors' generosity felt like a huge, wonderful hug, she said. It was signed, "xoxo."
What??? Was it possible she had pardoned this despicable asshole for all the humiliation, violence and dishonesty – all in the space of 24 hours? Really? How was that possible? "Self-care?" Did that translate to an all-expenses paid week in Hawaii?
In an email to customer service at the website, I explained everything about the online funding request, my concerns and suspicions.
"Even if I didn't know the background story, doesn't it sound like a scam?" I wrote. "I mean, if she's not going to use the money for the stated purpose, how does anyone know where the money goes? What if it's never given to those charities? She might even still be with this guy! How could a situation involving domestic violence be resolved peacefully in a matter of two days when there's a restraining order?"
The reply email contained an explanation of fees charged by the website, which was a percentage of total donations. After paying the fee, remaining funds were deposited into a bank account designated by the fundraiser. Regarding the specific post in question, the customer service rep wrote, "… with thousands of pages going up every day, we do not have time to check every one. If you have concerns about the money that was donated, we suggest you contact the person responsible for posting directly."
Yeah, I thought, because if I were running a scam and someone called me on it, I'd
just admit guilt. The crowd-funding website was as good as saying that they bore no responsibility for the funds collected, in terms of the legitimacy of the fundraiser's stated charity or cause. Read the small print in the terms of service agreement, ma'am. They were just fine collecting their percentage.
Any clever con man with a with a good schtick and bank account could spend five minutes putting a page together, and then just kick back for a week and wait for the dough to roll in. A rare disease, or a sick pet, or college tuition – depending on how convincing your story was, it might turn out to be a pretty lucrative gig.
So, donor beware. I bet there are a lot of people out there that just want to help. I do know people that have made legitimate crowd-funding requests; none of them would mind substantiating their claims for a cautious contributor.
Anyway, the page fell off the site soon after. There was no clue what happened to either of them. No way to know if her online plea had triggered an abusive shitstorm or if she'd simply lost her nerve.
She was still ahead about $1,600. That was enough to buy a little peacefulness or a plane ticket. Or as it turns out, a cheap wedding dress.
AFTERWORD
Not long after this story was posted, the girl married the same person that only a few weeks earlier, she claimed, had caused her significant abuse including physical assault. Presumably, she kept the remainder of funds that were donated by crowdfunders. She and her husband are looking for a new house to move into, near where she goes to school.
Part 6