A few months ago Kink.com CEO Peter Acworth reported on his blog that IP addresses that traced back to the Vatican had been identified as having illegally downloaded bondage porn from Kink.com. He responded to the incident by stating "In many ways, the Church isn't so different from Kink. The peculiar vestments, the intricate rituals, the absolute surrender to authority — these are all things we practice in the consensual BDSM." That statement is closer to the truth than the average Kink.com fan, or even the average Kink.com employee, may be aware of. Previous posts have established that the Free Speech Coalition, of which Acworth is an active Board Member, has facilitated organized crime including political blackmail, extortion, money laundering and the suppression of worker rights and safety requirements. The information that follows will show that the Jesuit order, known as the military arm of the Catholic Church, is a key component of organized crime networks, and their participation in facilitating criminal activity is closely linked to a network of powerful secret societies. Acworth himself is the son of a Jesuit priest who appears to have based the organizational structure of Kink.com off of the militaristic rites of the Jesuit order. Reference the following document from the Kink.com website, which outlines steps to "complete basic training" and earn rank, whose authorship is attributed to "John Paul the Pope". source:
http://forum.kink.com/docs/DOC-1174;jsessionid=BA79947A89BCDC8545AD2C7162F0D313
The Jesuit-run men's club at the Bohemian Grove is an annual private party where influential politicians and businessmen are rumored to do naughty things like crossdressing and consorting with prostitutes. Notable Grove attendees include Arnold Schwarzenegger, Henry Kissinger and Bush jr. and sr. Here is a photo of Catholic mass being conducted at the Bohemian Grove. Notice the presence of a crucifix at the top of the pyramid, as well as an altar boy holding candles. According to numerous insider accounts, secret societies inside the Grove membership are alleged to run entrapment schemes by videotaping encounters with underage prostitutes. Did Kink.com name their New Year's party "New Bohemia in reference to the Bohemian Grove?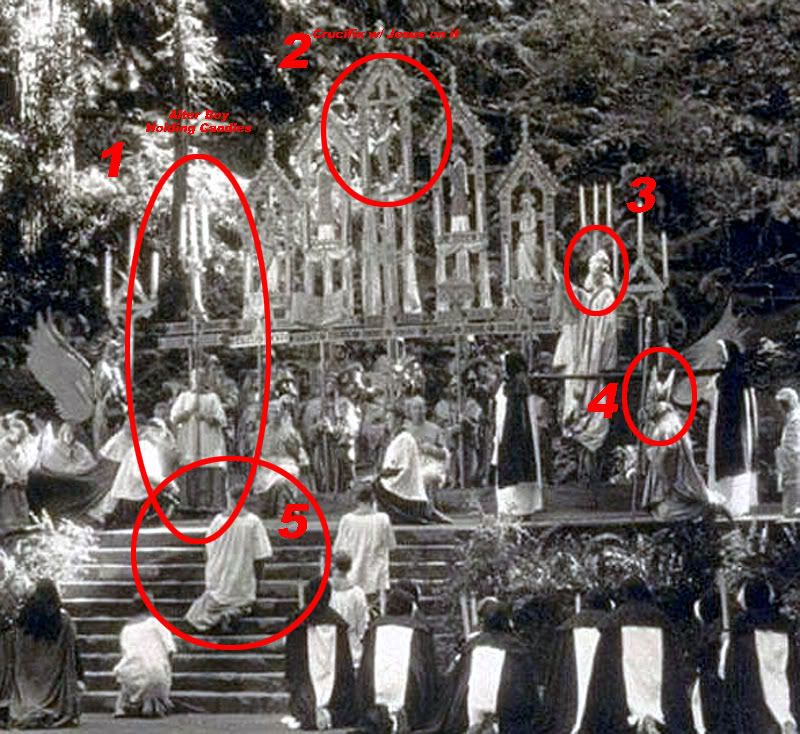 New Bohemia NYE:

Throughout their history, the Jesuits were known as "royal confessors" because of their role in securing the secrets of royalty, which then allowed them to gain political power for the Papacy. It shouldn't be too surprising, then, that the official patron saint of the Bohemian Grove is St. John of Nepomuk, who the legend says was killed by a Bohemian monarch because of his refusal to reveal the confessional secrets of the queen. John of Nepomuk is depicted in a bronze statue at the Grove. Some historians believe that St. John of Nepomuk is a fictional invention of the Jesuits designed to attract attention away from Protestant reformers. Source:
http://www.mareklejbrandt.com/nepomucen_eng.html
Below are photos of the Cremation of Care ceremony which takes place at Bohemian Grove every summer. The Grove is a place members of influential secret fraternities can mingle and consolidate quasi-legal political and corporate partnerships that bypass the democratic process. The historical basis of these fraternities is in the religious orders of the Crusades, where groups such as the Knights Templar and the Knights Hospitallers mobilized to exterminate Muslims from the Holy Land. Today, a network that traces its roots to these same chivalric fraternities hosts sex parties and coordinates prostitution rings in order to entrap public figures while securing political and economic power for themselves.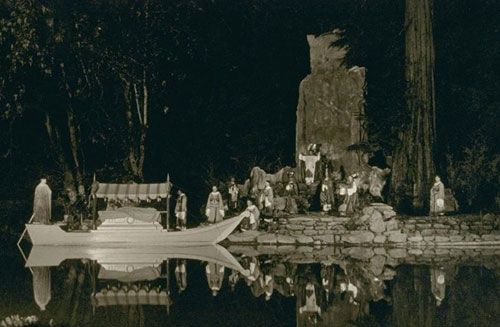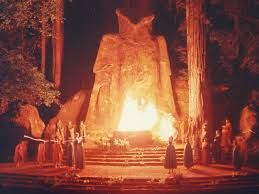 Here is information about a secret society that allegedly hosts sex parties for royalty via Arthur Goldwag:
Today, someone posted a comment on my book review of Cults, Conspiracies and Secret Societies (Arthur Goldwag) that they were looking for information on the Secret Order of Libertines. The only thing that the person could find was their very secure website ("If you try to hack your way into this site, we will track your IP down and press criminal charges against you") and a newspaper story on Prince Wenzeslaus of Liechtenstein who is now rumored to be a member of the Libertines due to a ring that he was seen wearing.
Because of the lack of information and their very secure website, he drew the same conclusion that the newspaper made: The Secret Order of the Libertines must be up to no good.
"Little is known of the activities within, but one can only assume that - given their considerable efforts to maintain a veil of secrecy - they've got something to hide."
source:
gleamingsfromthedawn.blogspot.com
more from Gizmodo:
Secret FBI, CIA Documents, Sex Videos Found At Egypt's Terror Police HQ
http://www.gizmodo.com.au/2011/03/secret-fbi-cia-documents-sex-videos-found-at-egypt%E2%80%99s-terror-police-hq/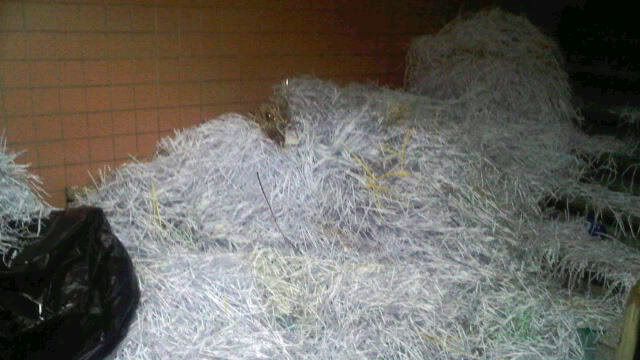 This mountain of shredded paper taking over several rooms was found inside the Egyptian Secret Police's headquarters in Cairo on March 5, when hundreds of angry people invaded it. They called this day their Bastille Day.
An enraged population liberated prisoners still in their isolation cells, no larger than phone booths. In the process, they found torture devices, mountains of shredded documents, dozens of computers stripped from their hard drives and a stash of sex video tapes showing famous people—from actors to politicians, both Egyptians and from other countries. The videos were recorded by the secret police in hotel rooms. Nobody knows who stars in them, but I'm sure the world will know about it very soon:
http://egyptianchronicles.blogspot.com/2011/03/night-capital-of-hell-fell-down.html
This is an inside tour for the capital of hell , first of all the building itself is so huge , too damn huge and it includes many branches ,hospital, officers' hostel , training and cells underground !! It is like the SS own City Stars !! A historical trivial fact the capital of hell building was designed by Dr. Farouk Al-Gohary of Ain Shams university. His page in Marefara , our own Arabic Wikipedia is negative. According to our friends who went and are still there the building is quite luxurious. We do not exactly how may underground floors are there , some speak about 3 , other speak about 8 !!
Our friends found torture devices , sex films made for famous personalities "this is so Safwat Al Sherif !!" and also Sony PlayStation !! They also found weapons and some CSF officer who was so scared and told them that he was innocent. The officer was handed to the army.
The underground prison was hard to find at first but the people found them. Some were speaking about screams from the underground prison. The cells were found , some people say they were locked electronically but they were opened. The detainees were released after being years in detention , one of them has been released there for 14 years !!!!!!!!!!! The detainees were allegedly blindfold and stayed in small cell without light !!!!!!!!!! Even the military police soldiers and officers were touched.
...An office , a bed room with a bed for two , pink bathrobe , marble bathroom and finest salons for meetings from our own budget , from our own taxes !!
I read a fearful thing online that the citizens found a room full of toys and photos for kids being tortured :(
The documents , files and reports are exposing everybody in the country.
The journalists of course took some scans "and some files" about VIPs including Ex-President Mubarak himself and his activities along with his wife Suzanne Thabet.
More info from The London Telegraph:
Alexandra Robbins, a Yale graduate and author of a book on the Skull and Bones, Secrets of the Tomb, said: "It is staggering that so many of the candidates are from Yale, and even more so that we are looking at a presidential face-off between two members of the Skull and Bones. It is a tiny club with only 800 living members and 15 new members a year....the club's rituals fascinate many Americans. Robbins's book describes a social club with arcane rules, a hoard of relics ranging from Hitler's silver collection to the skull of the Indian chief Geronimo - plus a resident prostitute.
She says initiation rites include a mud-wrestling bout, receiving a beating and the recitation by a new member of his sexual history - delivered while he lies naked in a coffin. Elevation of a Bonesman creates opportunities for his fellows, and Robbins says that President Bush has appointed 10 members to his administration, including the head of the Securities and Exchange Commission. The secret society that ties Bush and Kerry
London Telegraph 02/01/2004
The presence of a coffin in the rituals of the Skull and Bones is derived from the initiation rites of Freemasonry, the notorious secret society that has repeatedly been linked to political corruption and organized crime. Th following quote is from the Lexicon of Freemasonry.
"Coffin. In the ancient mysteries, the aspirants could not claim a participation in the highest secrets until he had been placed in the Pastos, Bed or Coffin. The placing him in the coffin was called the symbolic death of the mysteries, and his deliverance was termed a raising from the dead. Hence arose a peculiarity in the Greek verb teleutao, which, in the active voice, signified "I die", and in the middle voice, "I am initiated.
The author of that quote is Albert Mackey, Secretary General of the Supreme Council of the Ancient and Accepted Scottish Rite for the Southern Jurisdiction of the United States. Below is an image of a Masonic tracing board used during initiation ceremonies.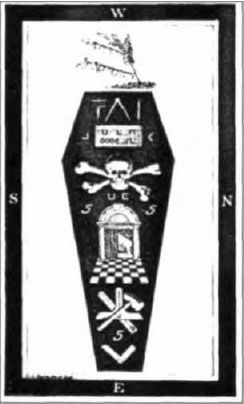 Here is another story about royalty and their connection to exclusive sex parties:
Kate Middleton's chum Emma Sayle and the sex party house
An investigation is being carried out into the London house where Kate Middleton's friend Emma Sayle hosted orgies.
Kate Middleton is the model of decorum, but some of her friends enjoy living dangerously. Mandrake learns that a house used for sex parties by her chum Emma Sayle is the subject of an investigation.
Officials at Westminster council are trying to establish whether the £30 million house in Portland Place was the scene of an orgy. If so, it would break the terms of a High Court injunction.
"Following a complaint from one of our residents that this home has been used again as a venue for parties, our planning enforcement officers have launched an investigation," confirms Rosemarie MacQueen, Westminster council's strategic director for the built environment. "We are working to find out if the property has been used for commercial purposes."
The former High Commission of Sierra Leone is owned by Edward Davenport, a self-styled "lord", who is on bail in relation to a separate investigation by the Serious Fraud Office.
Sayle's spokesman confirms that her members-only club, Killing Kittens, has hosted louche soirées at the house, but says she was "unable" to do so this year. Sayle, 30, who attended Downe House boarding school with Prince Michael's daughter, Lady Gabriella Windsor, is a member of Kate's rowing crew, The Sisterhood. source:
http://www.telegraph.co.uk/news/uknews/theroyalfamily/7601823/Kate-Middletons-chum-Emma-Sayle-and-the-sex-party-house.html
Here is the wikipedia entry on sex party organizer Edward Davenport. His events would be a private affair were it not for the fact that many attendees are elected officials whose voting record can be selected by the elite fraternities who run these parties.
Edward Ormus Sharington Davenport, also known as Fast Eddie[2][3] and (self-styled) "Lord" Edward Davenport,[2][3][4] (born 11 July 1966) is a convicted British fraudster[5][6] and property developer.[7] He came to prominence in the late 1980s as the organiser of the controversial Gatecrasher Balls for wealthy teenagers. After being convicted of tax offences in 1990, he started on a second career as a property developer. He claimed to have acquired a substantial fortune[8] but also attracted controversy for his business practices such as the way he acquired the former High Commission building of Sierra Leone in London, during the country's civil war.[8] From 2005 to 2009 he was the "ringmaster" of a series of advance-fee fraud schemes that defrauded dozens of individuals out of millions of pounds.[9] He was arrested and charged in December 2009 and was convicted in September 2011 along with five other defendants, receiving a jail sentence of seven years and eight months.[4] He is said to have made £34.5 million through his various frauds.[10]
In 1987 aged 19, Davenport co-founded Gatecrashers, a company that organized parties for teenagers at country houses such as Longleat and Weston Park.[12] The balls were attended by up to 10,000 party-goers at any one time and at the height of their success were generating £1,000,000 a year.[13] The idea behind the balls was to enable wealthy teenagers at single-sex boarding schools to meet the opposite sex and drink large amounts of alcohol. As one reveller put it, "I'm here to get drunk and get laid". The balls gained a reputation for debauchery with one newspaper calling them the scene of "Unbridled lust among upper-class Lolitas and public school Lotharios."[14]
http://en.wikipedia.org/wiki/Edward_Davenport_%28fraudster%29
Lord Edward Davenport is the owner of 33 Portland Place, a 24 bedroom mansion that was previously owned by Grand Master of the Freemasonic Lodges, Charles Townsend. The number 33 represents the 33rd and final degree of the Freemasonic hierarchy. Here is further information via the website of 33 Portland Place:
In 1832, the house was acquired by the Holroyd family, headed by the Earl of Sheffield. The 2nd Earl, whose father was the patron and friend of the historian Edward Gibbon, was the first to take charge. His son, Henry North Holroyd, the 3rd Earl of Sheffield, was born in the house and subsequently lived a colorful life there. ..The Holroyds were a very well connected family and often had influential guests to stay. For a period after 1835, for instance, lord Charles Townsend, an immensely wealthy gentleman and Grand Master of the Freemasonic Lodges, inhabited the premises. Many residents have since chanced a glimpse of Lord Charles 'ghost drifting down the main staircase clad in Templar robes!
http://www.33portlandplace.com/history-33-portland-place.html
Here is an account of elite sex parties from the memoir of Lilian Pizzichini, who worked for the Literary Review and the Times Literary Supplement:
The girls took part in games called "Chase the Bitch" and "Find the Lady". The winners were the men who bet on the right girl. The winning man won a bout of sexual intercourse in the master bedroom. Sex parties were popular among the more jaded members of the aristocracy, who at this time were usually involved in politics, and so were even more minded to unwind in style. But show business personalities also joined in, and at least one member of the Royal Family. All the participants felt the need to take their pleasures to the extreme and away from prying eyes. "Many of the people who attend are rich and famous - many faces that are seen in public life and on television..... ….Stephen Ward was a purveyor of pleasure, and kept a stable of young women eager to meet rich men. This occupation guaranteed his usefulness to high society, and, it would later emerge, to MI5. ...And then there was the man in the mask still cowering under the table. "The man in the mask was a masochist,"...The man made Mariella promise to keep his identity secret. ...Those closest to Ward knew that he kept a stash of pornography, including photographs of a compromising nature....Hod dealt in antiques and official secrets. He ran nightclubs in Shepherd Market and Mayfair where he played host to Anthony Armstrong-Jones, the Duke of Kent, Lord Astor and the Kray twins....Even Robert Kennedy, it emerged, was caught up in this sex and spy ring. Lord Denning and his secretrary, Thomas Critchley....suspected Satanic rituals were being performed in their basement flat in Hyde Park Square. Scotland Yard set up a surveillance....The strange thing about the Man in the Mask Party was that it did happen at a time in English history when the ruling classes collaborated in maintaining a fiction that this sort of thing did not happen at all, and that if and when it did happen, it was out of the ordinary, deeply regrettable and entirely wicked....Ahead of him was a well known female personality dressed as Juno in a silver mask, and behind him, an equally well known male dressed as a Viking in a bronze helmet with horns. ...in the large through room was a crowd from another world: a Crusader in a tunic with a large red cross; a pair of lovely female savages painted black, in straw skirts; couples in evening clothes wearing sequinned masks; and Helen of Troy in a golden gown with crossed straps over a very bare back. ...It was difficult to move in the crowded flat filled to the brim with TV personalities, embassy officials, a famous one-armed barrister, and at least one MP. ..."It would be humbug if I did not confess that I looked forward to the sex orgies. I have been to every type of that party — those specialising in certain perversions and those given in an elaborate setting where all the formalities were observed. ...Hod had been practising fetishistic sexual acts since the 1930s. Unlike his peers, however, Hod was entirely relaxed about anyone knowing it. Common factors at the orgies Hod and Ward attended seem to have been at least one naked woman and a steady stream of that most reliable of social lubricants, alcohol. Although at one party, Ward noted he "came across the host grinding up pills in a bowl which he put into everything we drank, whether it was gin, whisky, or just coffee. Benzedrine or Methedrine was used".
"Many of the people who attend are rich and famous — many faces that are seen in public life and on television. If their public could only see them like this."
— Stephen Ward, osteopath and society artist, 1963
Music Night at the Apollo: A Memoir of Drifting
source:
http://standpointmag.co.uk/node/5300/full http://standpointmag.co.uk/node/5300/full
The Astor family mentioned in the memoir above has also been discussed by secret society researcher Fritz Springmeier:
John Jacob Astor arrived in England and may well have been introduced In England to British Intelligence by his brother George. At any rate, he got involved in British intelligence which has always been closely linked to Freemasonry and the elite.....Dope, Inc. shows that the Astor family was the first American family to get into the Opium trade, and that their opium trade had a special privilege that most other American businesses did not even try to compete with. ...John Jacob 'raised the principle of self-interest to the level of a philosophy and ..... claimed for himself a natural superiority over his less able and less powerful fellow men...John Jacob III ...supported corrupt politicians such as the criminal "Boss" Tweed who ran NYC. The Tweed Ring stole millions of dollars from the city of New York. Before they finally got caught and sent to prison Mayor Tweed and gang cost the city $200 million. Again John Jacob Astor III's power allowed his involvement to be basically overlooked by the press, while Tweed went to prison for life. source:
http://www.whale.to/b/sp/blood.html#1.%20The%20Astor%20Bloodline
Here is further information about political blackmail rings run by the international intelligence community via aangirfan:
Reportedly, in the 1950s and 1960s, MI5 ran a brothel
in Church Street in Kensington for the use of visiting dignitaries,
diplomats and intelligence officers. Young female or male company could also be supplied directly to
a VIP's hotel bedroom. In the 1960s, Dr. Stephen Ward was reportedly the pimp
for a ring of call-girls that operated out of Ward's cottage on
the Clivedon estate of Lord Astor. Ward befriended Christeen
Keeler. In 1963, UK Secretary of War John Profumo was compromised
by his affair with Keeler. It seems that she had also been sleeping
with a top Soviet KGB agent in London, Capt. Yevgeny Ivanov. Reportedly, Dr Stephen Ward had an MI5 controller,
Keith Wagstaffe (cover-name 'Woods').
Reportedly, Sir Colin Coote, Editor of the Daily Telegraph
and a former officer in the Secret Intelligence Service,
was responsible for introducing Ward to Ivanov at the
behest of his old service. Allegedly, "Steven ward was running a spy-ring
investigating the whereabouts of 'the Hess files',
thought to be kept in the home of one of the nobility
(or even in the palace archives).
Christine Keeler, in her book 'The Truth At Last',
claims that:
1. Ward and MI5 chief Roger Hollis were spies for the Russians.
2. She met Hollis and Blunt in Ward's flat.
3. Ward was probably murdered.
4. She may have been set up from the start.
5. Ward asked her to find out from Profumo when
Germany would get nuclear weapons.
Ward and prostitute Ronna Ricardo came upon a paedophile
ring run by Anthony Blunt, and included ... a lot of top people
incl polititians... Profumo survived because he had evidence
and powerful friends, Ward was killed ... Peter Rachman was
Mossad..." source:
http://aangirfan.blogspot.co.uk/2012/11/murderous-pedophile-ring-linked-to.html
more from aangirfan:
"Only Britain's elite, including aristocrats, politicians, civil servants and lawyers, are allowed to join the secret society, which met for its first orgy of 2005 last Saturday night. "Rich brokers from City institutions Citigroup, Credit Suisse, Deutschebank and Commerzbank indulged in a free-for-all with scientists, lawyers, corporate directors, a TV presenter, fashion models and an Olympic athlete..."Beautiful guests had flown in from New York, Paris, Italy, Germany and Holland especially for the party." On 9th October 2011, the Daily mail reported on a Hollywood movie actor at one orgy.
Monthira Sanan-Ua is the Thai girlfriend of 'Lord' Eddie Davenport. She hosted many of the 'orgies' at Davenport's London mansion, 33 Portland Place. She says: "They had all sorts of posh, important people there like judges and financiers. "Once I spotted a famous Hollywood actor who is very handsome." "I met all the A-list stars, everyone..."My friend would say to me, 'Oh look, there's the judge and there's that policeman'...
http://aangirfan.blogspot.com/2011/10/sex-orgy.html
more on elite sex parties via the New York Times:
Former IMF managing director Dominique Strauss Kahn attended orgies organized by Freemasons
More than a year after resigning in disgrace as the managing director of the International Monetary Fund, Dominique Strauss-Kahn is seeking redemption with a new consulting company, the lecture circuit and a uniquely French legal defense to settle a criminal inquiry that exposed his hidden life as a libertine...That defense and the investigation, which is facing a critical judicial hearing in late November, have offered a keyhole view into a clandestine practice in certain powerful circles of French society: secret soirees with lawyers, judges, police officials, journalists and musicians that start with a fine meal and end with naked guests and public sex with multiple partners...The exclusive orgies called "parties fines" — lavish Champagne affairs costing around $13,000 each — were organized as a roving international circuit from Paris to Washington by businessmen seeking to ingratiate themselves with Mr. Strauss-Kahn. Some of that money, according to a lawyer for the main host, ultimately paid for prostitutes because of a shortage of women at the mixed soirees orchestrated largely for the benefit of Mr. Strauss-Kahn, who sometimes sought sex with three or four women... On Thursday, Mr. Strauss-Kahn broke a long silence to acknowledge that perhaps his double life as an unrestrained libertine was a little outré.
"I long thought that I could lead my life as I wanted," he said in an interview with the French magazine Le Point. "And that includes free behavior between consenting adults. There are numerous parties that exist like this in Paris, and you would be surprised to encounter certain people. I was naïve."...This month Mr. Strauss-Kahn won a major legal battle after a French prosecutor dropped part of the investigation into an alleged sexual assault at a hotel in Washington. A Belgian prostitute recanted her earlier accusation, saying the encounter was just rough sex play, but Mr. Strauss-Khan is still a suspect for involvement in a prostitution ring...The investigation into the prostitution ring in Lille ultimately swept up 10 suspects, including Mr. Strauss-Kahn. They knew each other largely through their membership as French Freemasons, according to Karl Vandamme, a defense lawyer who represents Fabrice Paszkowski, the owner of a medical supply company who played a crucial role in organizing the sex parties.
http://www.nytimes.com/2012/10/14/world/europe/dominique-strauss-kahn-says-lust-is-not-a-crime.html?_r=3&hp&pagewanted=all&
To recap, the information collected in this series has shown that the Free Speech Coalition has been involved in facilitating organized crime ranging from money laundering to identity theft, political blackmail, coercion and extortion. The FSC has also sheltered a convicted pedophile and CIA operative, Kurt Brackow aka Kurt Treptow, who worked with the FSC to eradicate consent forms the adult entertainment industry is required to use in order to prevent distribution of child pornography. Further, the FSC appears to have links to an elite network of secret societies involved in the widespread blackmail of public officials. This issue should be of concern to anyone who values legitimate democratic governance, lest public policies that should be determined by voters are purchased by unelected officials. With that in mind, let's take a look at the FSC's connections within the political sphere.
First, let's return to FSC Board Member Peter Acworth, who allegedly employs porn agent and pimp Derek Hay as part of the Kink.com company. A growing number of Hay's employees have accused Hay of crimes including theft, blackmail, narcotics trafficking, passport forgery, mortgage fraud and money laundering, amongst other charges.
Hay is rumored to have been investigated by the FBI, and yet he continues operating above the law. Ex-employees have accused Hay of arranging trips to Saudi Arabia where his employees are not protected by workplace safety laws. Several of these women are alleged to have become prisoners of the Saudi royal family, whose diplomatic immunity shelters them from prosecution for crimes including assault and battery as well as sexual assault.
Below are several photos of Hay standing with women who are alleged to be his employees. Next is a photo of former President Bill Clinton standing with the same women.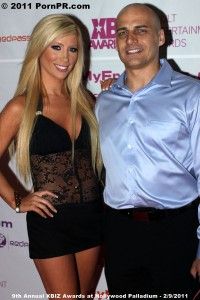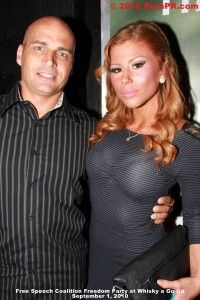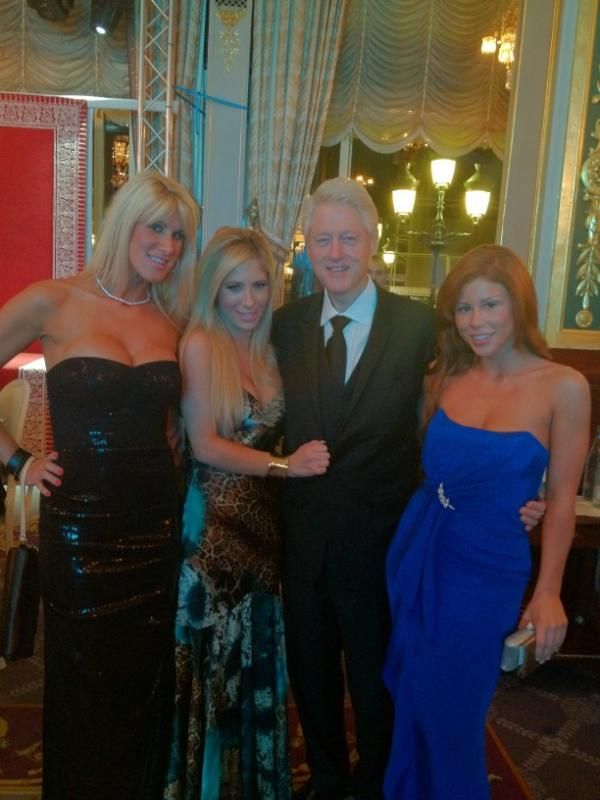 Here is a photo of FSC director Christian Mann with former California Governor Arnold Schwarzenegger.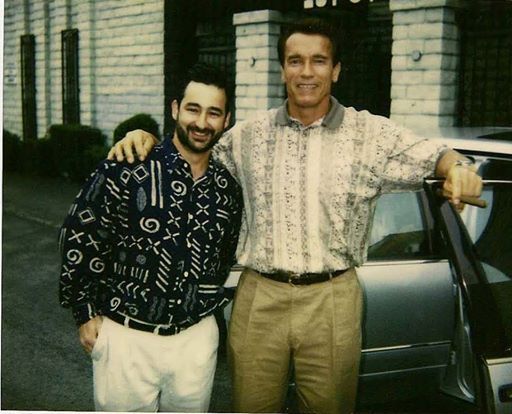 Below is a photo of Christian Mann and Michael Whiteacre aka Ari Bass, a pimp with an extensive domestic violence history. Whiteacre has been known to send death threats to sex workers that expose the corrupt labor practices of his business partners in the sex industry.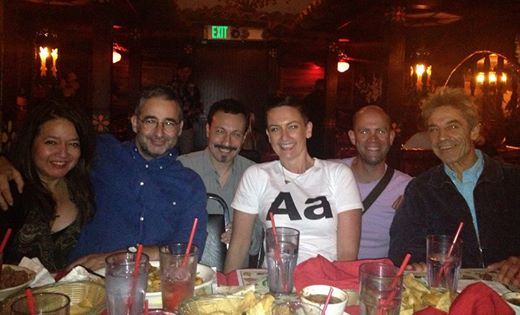 whiteacre death threat:
Refer to parts
five
and
six
for photographs of a restraining order that was filed against Whiteacre, as well as other documentation of his history of violence against women.
Below are screen caps of a Twitter conversation in which Whiteacre reveals the personal information of a community college professor as part of what very well may be a malicious attempt at extortion. Whiteacre is one of the primary authors behind the Realpornwikileaks website which publicized the real names and addresses of porn stars as part of a hate-based hacking campaign. And yet, he has
repeatedly
been cited by the FSC as a "community activist" organizing on behalf of sex workers. Spotting any patterns yet?